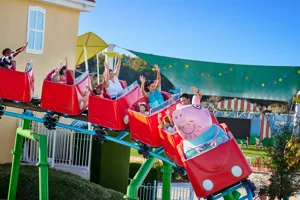 Daddy Pig' s Roller Coaster
Take your fun family day to the next level when you join Daddy Pig on an unexpected adventure ride in his newly cleaned red car.  But watch out, Mr. Bull is digging up the road, and Daddy Pig knows  a short cut!
This is a 'my first rollercoaster' experience for the whole family that's not-to-be missed! And don't forget to fasten your seatbelt! Wheeeeeee!
Be the first to Ride!